News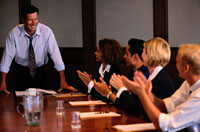 April 2017
Existing Toshiba Users…Don't Panic
Learn More »
November 2016
November E-Blast: Get 5 for FREE!
Learn More »
January 2015
After 33 Years, Curt Wiens Succeeds Bob and Linda Bennett at COMMWORLD of Kansas City – a Leading Telecommunications Company.
Learn More »
September 2014
Special Trade Up Promotions End September 30th
Learn More »
June 2014
Are You Addicted to Your SmartPhone?
Learn More »
February 2014
3 Great Trade Up Opportunities You Won't Want to Miss...
Learn More »
November 2013
Have a safe, fun and peaceful holiday. Happy Thanksgiving!
Learn More »
October 2013
32nd Anniversary Thank You.
Learn More »
July 2013
Bob Bennett, CEO of COMMWORLD of KC, & Toshiba Give Back.
Learn More »
May 2013
Technology Giant Makes New Compatible with Old
Learn More »
April 2013
Announcing Microsoft® Lync® Integration
Learn More »
March 2013
IP Mobility improves business communications
Learn More »
January 2013
Free App turns smartphone into an extension on the office phone system
Learn More »
December 2012
Holiday Greeting...
Learn More »
November 2012
Don't miss this Tax Deduction...
Learn More »
October 2012
Wild cats are prowling...
Learn More »
July 2012
The Sky is Not the Limit!
Learn More »
June 2012
Free kittens with every order
Learn More »
May 2012
7 Ways to Get More Done with Fewer People
Learn More »
April 2012
Stress Awareness Month
Learn More »
March 2012
Win a $2500 Phone System, $450 Flat Screen TV or $399 Tablet Computer!
Learn More »
February 2012
Win a Phone System!
Learn More »
January 2012
2012 Could Mark Positive Shift
Learn More »
October 2011
You Gotta Have Heart
Read More »
Jackson County Advocate: Comm World Celebrates 30 Years
Read More »
We're not going to pay your phone bill, but we will conduct an Analysis of your local/long distance/internet bill(s).
Learn More »
August 2011
All the haggling over the debt ceiling and the economic crisis makes us thankful that we chose a different style of economic planning when we started in business 30 years ago.
Learn More »
July 2011
The Power of Positive Thought
Read More »
June 2011
2011's record-breaking tornados, thunderstorms and flooding have caused disastrous results for people and businesses. Every time a severe storm hits, we get calls to repair damaged telecom equipment and sometimes, it turns out to be beyond repair.
Learn More »
May 2011
Telecommuting saves gas, time and money while it helps you go green.
Learn More »
March 2011
Tech Success
Read More »
Spring Forward, Check Voice Mail Greetings, Replace Batteries and Prepare for Disasters
Learn More »
January 2011
To celebrate our 30 years of local ownership, we're offering 30% Off on Toshiba phone and voice mail systems! Toshiba is known as the most reliable equipment in the industry backed up with the best warranty. We know because we've been an Authorized Toshiba Dealer for all of our 30 years.
Learn More »
November 2010
Ideal Recipe for Business Success
Read More »
---
Receive Monthly News Updates from COMMWORLD of Kansas City
Our free monthly e-newsletter offers easy to understand information on the latest telecom technologies, community events, COMMWORLD of Kansas City specials, and more.
About COMMWORLD of Kansas City
COMMWORLD of Kansas City has provided superior business telephone system products and services since 1981. COMMWORLD specializes in the most reliable, high quality telecommunications products from leaders in technology — from industry leaders including Toshiba and Samsung. Bennett stated, "Customers no longer need to be frustrated with multiple contacts. Our 'one point of contact' concept means your business can come to COMMWORLD for Business Telephone Equipment, Converged Systems, VoIP, Voice Mail, Unifed Messaging, Local/Long Distance/Internet Service, Voice & Data Cabling, Video Surveillance, GPS Fleet Management and more. With COMMWORLD you get technology solutions that WORK to increase business productivity, protection and profits." COMMWORLD of Kansas City is located at 6200 Main Street in Grandview, MO. For more information, call (816) 763-1100 or visit www.commworld-kc.com.