Bob Bennett, CEO of COMMWORLD of KC,
& Toshiba Give Back.
Habilitat gets Technology Makeover
Bob Bennett & other Practitioners donate time and talents
Toshiba has awarded new Toshiba technology valued at $30,000+ to Habilitat, the most successful addiction rehab facility in the United States. Hawaii's governor, Neil Abercrombie, proclaimed the day "Helping the Helpers Day". U.S. Congresswoman Tulsi Gabbard and State Representative Jessica Wooley presented the Governor's proclamation at the Technology Makeover ribbon-cutting at Habilitat in Kaneohe, Hawaii.
Bob Bennett, CEO of COMMWORLD of Kansas City - Authorized Toshiba Telecom Dealer, is giving back in another way. He is among a group of FasterEFT practitioners who are donating two weeks of their time and talents to help the residents of Habilitat heal their lives. FasterEFT has proven to be a successful method for helping addicts and others make positive changes in their lives.
FasterEFT is a fast, easy-to-learn process based on how the mind and body work naturally. It works for stress, weight issues, pain, addictions and much more. There are no gimmicks, no pills, no drugs, no diet, no talk therapy, no bad side effects. For more information on FasterEFT, email Linda@ChangesAtLightSpeed.com .
All of us at COMMWORLD are proud of the dedication to making a positive difference in the world.
Bob Bennett, CEO of COMMWORLD of Kansas City, (2nd from right in red shirt), FasterEFT founder, Robert G. Smith (green shirt) and the other Faster EFT Practitioners are all dressed up and ready to help change lives at Habilitat.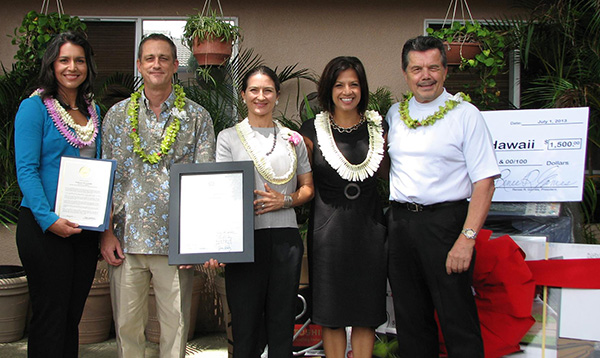 U.S. Congresswoman Tulsi Gabbard (far left) and State Representative Jessica Wooley (middle) present certificates to Habilitat and Toshiba executives, Jeffrey Nash (second from left) and Greg Valen (far right).
Should you update your telecommunications?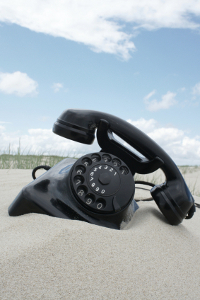 When we talk with a business owner or manager who is still using the same phone system they've had for ten, fifteen, even twenty years - they want to know what's changed in telecommunications. (Yes, good equipment lasts that long!) They often tell us their old phone system is working fine and they don't need anything "fancy", so why should they change?
Well, a lot has improved and here are some of the reasons you should update your telecommunications if you have one of those "dinosaur" phone systems.
Advances in telecommunications have made leading companies more productive and profitable.
Newer technology leads to improved customer service, increased sales and employee satisfaction.
You can accomplish more with fewer people.
It gives you a competitive advantage and lets you run your business more effectively.
It can enhance your company's image and give you management tools to run the business better.
Look around your office and ask yourself two questions...
What technology does your company depend on everyday?
What is the oldest technology in your office?
If the answer to both questions is that old phone system, it's time to change. Many people tell us that if their phone system dies, they're out of business. Don't wait until that dinosaur dies and you have to scramble to make the change in an emergency.
Call 816-763-1100 for a no-obligation consultation.
Is your company ready for BYOD (bring your own device)?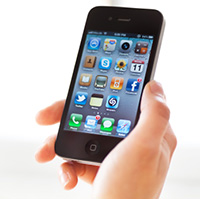 Today we're doing more with fewer people and that takes flexibility and mobility. The "workplace" might be a home office, coffee shop or your customer's jobsite. Workers are pushing for BYOD (bring your own device) programs so they can use one device for personal and business. Is your technology up to the challenge?
A recent study conducted by Harris Interactive, a global market research firm, confirmed that smartphones and tablets are "productivity powerhouses". Participants in the study saved approximately 88 minutes per day.
Gartner, Inc., a leading information technology research and advisory company, predicts the number of workers using mobile applications will double in the next two years.
Analyst, David A. Willis states, "Leading organizations see great potential in expanding the number of workers that have access to applications via mobile devices..."
Gartner reports employee satisfaction increases when BYOD programs are introduced.
Another change in the workforce that drives the BYOD movement is the increase in contract personnel, temps, and other "free agents". These people rely on their own technology solutions as they work with various companies.
How could your business benefit from the increased mobility, productivity and employee satisfaction of BYOD?
Sources: "Why companies should promote secure BYOD" by Gil Bouhnick - www.usatoday.com,
"Bring Your Own Device: The Facts and the Future" by Analyst David A. Willis - www.gartner.com
Use your smartphone for business without giving out your cell phone number...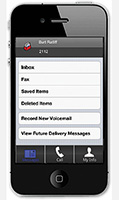 "Toshiba delivers robust mobility options in today's BYOD (bring your own device) world, said Brian Metherell, vice president and general manager of Toshiba America Information Systems Inc., Telecommunication Systems Division. Whether users have Toshiba's Strata CIX, IPedge or VIPedge solutions, they can use their smartphones as their primary or secondary telephones, directly accessing their office extensions for single-number reach."
Read more about it in this recent blog post... http://blog.telecom.toshiba.com/2013/06/freedom-of-choice/
Bob Bennett, CEO & Founder of COMMWORLD of Kansas City writes a column on Business Philosophy for KC Business Magazine.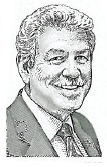 Take time to read Bob's recent article about time...
Fun Phone Facts...
What is Pennsylvania 6-5000?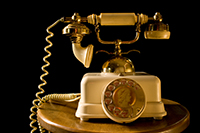 Remember the 1940's smash hit, Pennsylvania 6-5000, performed by the Glenn Miller Orchestra? It was a huge success for the Andrews Sisters, too. Even if you weren't around back then, maybe you've heard it in an old black and white movie on TCM or at your Grandma's house or in an elevator in some tall building.
The lyrics cashed in on the popularity of the Café Rouge, a night spot in the Pennsylvania Hotel in New York City. All the Big Band Stars including Benny Goodman, the Dorsey Brothers, Artie Shaw and Glenn Miller frequented the nightclub. The phone number for the hotel was Pennsylvania 6-5000.
There were no area codes back then and the first couple of numbers were called the exchange code. Pennsylvania translated to the numbers 7 and 3 using the letters/numbers on the rotary dial phones of the day.
Phone numbers were prettier, almost musical back then. I remember growing up in Lee's Summit, Missouri with the Laclede exchange. But lyrical phone numbers like that are long gone. Today the phone number for the Pennsylvania Hotel is just (212) 736-5000. I called for myself. The Café Rouge doesn't exist anymore and the nice woman who answered my call didn't know anything about the song except she has heard it on their music-on-hold.
Sources: http://www.songfacts.com, the nice woman at the Pennsylvania Hotel