From the Toshiba Blog...Special Trade Up Promotions End September 30th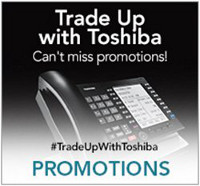 Since we announced this promotion earlier this year, we've seen a lot of excitement from longtime customers who recognize this as a prime opportunity to upgrade. Here are answers to the top questions we've been getting about this incentive program:
Free IP phones? Deep discounts on digital phones and user licenses? Have you people gone mad?
Hardly. We just know it's better for everybody if the Toshiba systems out in the field represent our latest innovations and are actively supported. Toshiba's Value Plus warranty program offers a two-, three-, five- or seven-year manufacturer's warranty on its various phones and systems, but many customers are using equipment much older than that. We're glad our products stand up to long service life, but these customers are missing out on new capabilities that could really drive their businesses forward - and their success is good for us as well.
Who can take advantage of the "Trade Up with Toshiba" promotion?
If your organization uses a legacy Toshiba Strata ®system, such as a Strata DK, Strata CTX or Strata CIX business telephone system, Toshiba is now offering some great incentives so that you can trade up to a current generation system - including our VIP edge ®cloud-based business telephone solution, IP edge ® pure IP business telephone system or Strata CIX converged digital/IP system.
What do we get if we upgrade to Toshiba's cloud solution?
This is probably our sweetest deal. Get a free IP5531-SDL IP telephone for every Toshiba EKT, DKT or IPT1000/2000 series telephone you trade in by September 30, 2014. We want to make it very affordable to move to cloud telephony.
What's the deal if we upgrade to the IP edgeon-premises phone system?
From now until September 30, 2014, for each Toshiba EKT, DKT or IP1000/2000 series telephone traded in and replaced with a Toshiba IP phone, you get up to 50 percent off the purchase price of an IP edgeUser License with Call Manager. With an upgrade, we're also offering five Toshiba IP5531 telephones for the price of four.
What if we want to reuse the digital phones we already have?
No problem. Choose the promotion's option to migrate to a new Strata CIX670 with an IP edgeApplication Server. Your existing Toshiba DKT2000, DKT3000, DKT3200 and DP5000-series digital phones all work with this phone system. However, if you want to upgrade older Toshiba EKT, DKT, or IP1000/2000 series telephones, you'll get a $50 discount for each one you trade in towards the purchase of a new 10- or 20-button DP5000-series business telephone, and you can get five IP5531 phones for the price of four.
What happens to the legacy phones we trade in?
Always environmentally friendly, your Authorized Toshiba Dealer will recycle your old equipment in accordance with all applicable laws, using only R2 or e-Stewards ® certified recyclers. Of course.
Sounds great, but what's the fine print to all this?
There are some terms and conditions, but no biggies. For instance:
You can only get as many free or discounted phones as your new system or contract supports.
You can't get trade-in benefits on more phones than you trade up to.
Your Toshiba Authorized Dealer gets to keep your old phones.
The promotion for the cloud upgrade option requires a two-year contract.
Full conditions of the promotion can be found at www.telecom.toshiba.com/tradeup. Don't miss out. The "Trade Up with Toshiba" program ends September 30, 2014, so call your Authorized Toshiba Dealer today.

Source: http://blog.telecom.toshiba.com/2014/08/frequently-asked-questions-about-the-trade-up-with-toshiba-promotion/
Feeling Stressed?
Here's a fast, effective way to eliminate stress and live your best life now!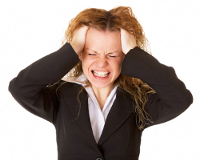 Faster Emotionally Focused Transformation (Faster EFT) works with your mind – body connection. It works because it uses systems that naturally occur in all of us. The basic process is easy to learn and you can do it for yourself.
Bob Bennett and Linda Bennett are Certified Faster EFT Practitioners. Check out their website, www.ChangesAtLightSpeed.com to learn more. If you're ready to change your life for the better, schedule a private session or a seminar for your management staff. Ask about the special discount for readers of this COMMWORLD newsletter!
Faster EFT has helped thousands of people around the world eliminate stress, fears, addictions, depression, excess weight, pain and much more. There are over 800 videos about and testimonials for Faster EFT on YouTube.com. Bob conducts one of those interviews in this video.
CHANGES At LightSpeed
816-761-5100
info@changesatlightspeed.com
Your work isn't tethered to a desk, your business phone shouldn't be either.
Introducing Toshiba's new UC edge™ - Unified Communications client...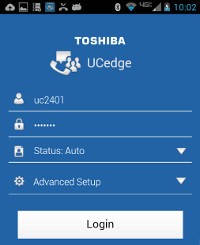 Today's phone systems offer mobility features such as follow-me and twinning, so incoming business calls can reach you and ring on multiple devices. But there's more. With Unified Communications client software, a smartphone, tablet, desktop or laptop can perform as an extension of the company's phone system. You'll get features you would expect from your desk phone such as extension dialing, call hold, transfer and ad hoc conferencing.
Toshiba's new UC edge™ - Unified Communications client, allows a user to seamlessly work with up to three devices simultaneously such as an iPhone, a PC and an Android based tablet. Through pairing an iPhone or Android phone, users can initiate dialing on a desk phone via a cell phone contacts list, initiate an (IM) conversation on one device, and continue the conversation on another, all while viewing real time presence status.
UC edgeworks on Toshiba's VIP edge ®, IP edge ® and Strata ® CIX (with IP edge Application Server) business phone solutions.
Source: August 20, 2014 Toshiba Dealer Communications Bulletin
Government Workers Cheat and Top Officials Fail to Manage
Telecommuting Requires Trust and Good Management
A recent Washington Post.com article by Lisa Rein reveals problems when government workers cheat and top officials fail to manage.
The telework system of the U.S. Patent and Trademark Office has been used by the Obama administration as a model to encourage telecommuting in other government agencies. Approximately 3,800 patent examiners work from home full time and 2,700 employees' telework part-time. However, the agency has a backlog of over 600,000 patent applications with an estimated 5 year wait time. Two years ago, whistle blower complaints about telework program abuses led to an internal investigation.
The inquiry revealed many cases of people lying about the hours worked from home and receiving bonuses for work they did not do. Dozens of paralegals were paid while they "surfed the Internet, did laundry and read books instead of working." After being caught and warned twice, an examiner was still paid for 304 hours of work which was not done during one year. An examiner had a program on his computer which made it look like he was moving his mouse and working. His manager discovered it, took a picture and presented it to a top official, but no action was taken. Approximately 75% of managers reported that the quality of many examiner's work suffered because they did no work for long periods and then, at the end of each quarter, they would rush to complete assignments. When supervisors found evidence of fraud, they were ignored by top agency officials.
The office of Commerce Department Inspector General Todd Zinser is currently investigating time and attendance fraud at several other agencies.
Source: http://www.washingtonpost.com/politics/patent-office-filters-out-worst-telework-abuses-in-report-to-watchdog/2014/08/10/cd5f442e-1e4d-11e4-82f9-2cd6fa8da5c4_story.html
Mobility Means Getting More Done, Increasing Sales and Adding to Your Bottom Line
See for yourself by the numbers...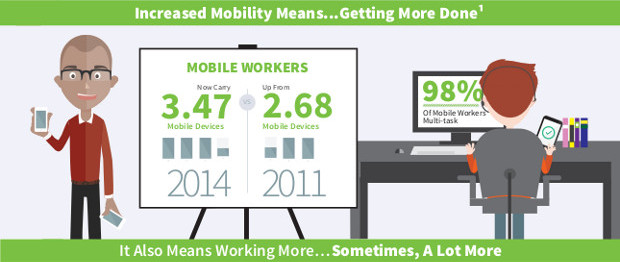 See Full Infographic »
Who Knew Identity Theft Can Start With a Text Message
How to "Can the Spam"
Everyone is aware of the risk of identity theft, but did you know it can start with a text message? Spam text messages can also slow the performance of your device by taking up memory and they can lead to extra charges on your cell bill.
One scam starts with a legitimate-looking text that informs you that your email account has been hacked or compromised and has been deactivated for your protection. You are advised to send a return text or click on a link to reactivate your account.
Other text spams may promise free gifts or special offers for cheap mortgages, debt relief services, credit card offers, etc. To claim the free gift or take advantage of the offer, you're asked to provide personal information.
Clicking on a link could install malware on your device which collects information from your phone. Spammers collect your information and sell it to marketers or identity thieves.
The Federal Trade Commission website lists the following recommendations to protect yourself from Text Spam Scams.
Delete text messages that ask you to confirm or provide personal information: Legitimate companies don't ask for information like your account numbers or passwords by email or text.
Don't reply, and don't click on links provided in the message: Links can install malware on your computer and take you to spoof sites that look real but whose purpose is to steal your information.
Treat your personal information like cash: Your Social Security number, credit card numbers, and bank and utility account numbers can be used to steal your money or open new accounts in your name. Don't give them out in response to a text.
Place your cell phone number on the National Do Not Call Registry.
If you are an AT&T, T-Mobile, Verizon, Sprint or Bell subscriber, you can report spam texts to your carrier by copying the original message and forwarding it to the number 7726 (SPAM), free of charge.
Review your cell phone bill for unauthorized charges, and report them to your carrier.
You can also file a complaint with the FTC or the FCC.
Source: http://www.consumer.ftc.gov/articles/0350-ext-message-spam
Telephone Trivia
How many songs about telephones can you name?
Can you name the artist and the year??
Anyone remember Sam Wilson's Trivia Nights back in the late 70's???
The Telephone Man– Merilee Wilson (1977) – "Hey, baby, I'm your telephone man. You just show me where you want it."
Wichita Lineman– Glen Campbell (1968) – "I hear you singin' in the wire. I can hear you through the whine."
Call Me– Petula Clark (1965) – "If you're feeling sad and lonely, there's a service I can render."
I Just Called to Say I Love You– Stevie Wonder (1984) – "I just called to say I love you. I just called to say how much I care."
Don't lose My Number– Phil Collins (1985) "Billy, Billy don't you lose my number 'Cause you're not anywhere that I can find you."
Telephone– Lady GaGa (2009) – "Hello, hello, baby, you called? I can't hear a thing I have got no service in the club."
Operator– Jim Croce (1972) – "Operator, well could you help me place this call?"
Here's A Quarter, Call Someone Who Cares– Travis Tritt (1991) – "Call someone who'll listen and might give a damn"
Beechwood 45789– The Marvelettes (1966) – "Beechwood 4-5789, you can call me up and have a date any old time."
634-5789– Wilson Pickett (1966) – "If you need a little lovin', call on me all right"
Memphis Tennessee– Chuck Barry (1959) – "Long distance information, give me Memphis Tennessee"
Pennsylvania 6-5000– Glenn Miller Orchestra (1938– "Pennsylvania 6-5000"
Rikki Don't Lose That Number– Steely Dan (1974) – "Rikki don't lose that number. You don't wanna call nobody else."
Sylvia's Mother– Dr. Hook (1977) – "Sylvia's mother says 'Sylvia's busy, too busy to come to the phone."
Call Me, Maybe– Carly Rae Jepsen (2011) – "Hey, I just met you, and this is crazy. But here's my number, so call me, maybe?"
Chantilly Lace– The Big Bopper (1958) – "Hello baby, Yeah, this is the Big Bopper speakin, Ha ha ha. Oh you sweet thing."
Source: http://www.rankopedia.com/Favorite-Song-About-Telephones/CandidateData/9625/.htm