Study Proves Telecommuting Saves $Millions
"Telecommuting saves gas, time and money while it helps you go green." That's the title of our lead article in COMMWORLD's August 2008 Newsletter. We described the technology that connects remote workers to the office phone and computer systems. We were helping clients implement telecommuting back in 2008, and now we have more statistics to confirm the benefits.
Telework Exchange, a public-private partnership focused on demonstrating the values of telecommuting, sponsored a week-long study in February 2011. 39,694 employees telecommuted during that week.
The following benefits of telecommuting were found:
76% Report Increased Productivity
Organizations and employees reported increased productivity. 76% of participants reported they accomplished more while teleworking.
Teleworkers Gain 2 Hours Per Day Improving Work/Life Balance
Participants gained approximately 2 hours back into their lives for every telework day. The typical participant worked 2 days from home.
Teleworkers Save $34.39 Per Day
The average commute for participants was 50 miles roundtrip. The group saved $2,730,229.00 based on various cost factors including average miles per gallon, wear and tear and maintenance. That equates to $34.39 savings per telework day for each participant or $3,439 per year for each employee who teleworks 2 days per week for 50 weeks.
Reduces Pollution
The study also found that 1,818 tons of pollutants were not released into the air as a result of Telework week.
Helps Retain and Recruit
68% of Gen Y participants would give preference to positions that offer telework. On average, telecommuting two days per week equals a $3,439 annual raise plus 200 hours a year of free time for the employee.
Technology should increase business productivity and profits. If it improves people's lives and reduces pollution at the same time, that's even better. The evidence shows that telecommuting can do it all.
Telecommuting saves gas, time and money while it helps you go green.
Source: www.teleworkexchange.com
Can you trust Reports and Buyer's Guides on the Internet?
Choosing telecommunications equipment and services can be confusing.
Today it's more confusing than ever for a business owner or manager charged with acquiring the best telecom solution for his or her company. Some people assume that IT guys really know telecom. No offense intended, but most of them don't. Changing your phone system isn't something you do very often with the typical life-cycle around seven years. So, people turn to the internet to decide what they need with questionable results. Although there is definitely useful information to be found on the internet, there is also a huge amount of misinformation and misrepresentation.
Reports may not be true.
As telecommunications professionals, at COMMWORLD, we're continually seeking information on the web and elsewhere. To provide valid recommendations for customers and prospective customers, it's critical for us to know the technology which we provide as well as competitive products and services. As part of that quest, we have reviewed countless white papers, comparison guides, reports, buyers guides, etc. Sadly, most of those found on the internet are thinly veiled lead generation tools. They are sponsored and paid for by sellers of the products which just happen to get a positive review. Often, leading products from major manufacturers are excluded from these documents because they don't "play the game".
The local company is your most important choice.
So, how can you get the information you need to choose the telecom equipment and services that will fulfill your company's needs, solve problems, improve productivity and increase your profits? Our best advice is to focus on 4 important areas…
Quality of the Local Company
Products and Services recommended
Installation and Service
Financial options
The most important of these is partnering with the local company that you can trust.

What do the Lurkers, Trolls, Mashups, and Twitter Rage have in common? You guessed it... they're all Social Media terms. We've been dabbling in Social Media and now we're ready to jump in.
We're looking at Social Media as another tool to keep in touch with customers and friends. We hope it will also increase our reach to potential customers. Since it isn't just one way conversation, you'll have the opportunity to comment, ask questions and discuss. We do not, however, think it will ever replace picking up the telephone and calling! (Thank Goodness!)
We hope you'll find useful information, interesting tidbits and special offers with a touch of fun. Too much of a good thing is still too much, so we promise not to overdo the information flow. If you like what you see, please tell other people. If you don't like it, you can always turn it off.
Please, take a minute to find us on Facebook now so you don't forget. Just go to www.facebook.com/CommWorldofKC to see our page. After you log into Facebook, we hope you'll click on the "like" button at the top.
(All this "liking" reminds me of Sally Field's Oscar acceptance speech for the 1984 drama, "Places in the Heart"? It's often misquoted, but the actual words are "…you like me, right now, you like me!")
COMMWORLD's Bob Bennett is the Business Philosophy columnist for "KC Business Magazine"
Bob Bennett, Founder and CEO of COMMWORLD of Kansas City writes a column on Business Philosophy for "KC Business Magazine". The following article on the success rates of IT implementations is from the March 2011 issue.
Community Connections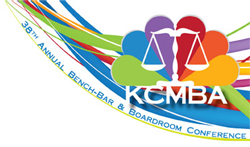 COMMWORLD participates in Bar Association event
The Kansas City Metropolitan Bar Association will sponsor the 38th Annual Bench – Bar & Boardroom Conference at the Lodge of the Four Seasons from May 19th through May 21st. COMMWORLD of Kansas City will attend as a long-time Affinity Partner of the KCMBA.
James A. (Jim) Heeter, President of the KCMBA, will preside over the conference. In addition to leading the association, Mr. Heeter also serves as the President and CEO of the Greater Kansas City Chamber of Commerce.
The annual event brings members of the legal community together for three days of education, inspiration and fun. This year's theme is based on the news: "Real Lawyers. Real Stories. Amazing Results".
The KCMBA is client of COMMWORLD and we're happy to be a part of this special event.
---
UMKC Challenges Student Entrepreneurs
COMMWORLD's Bob Bennett is a Judge
"The Regnier Family Foundations / Bank of Blue Valley Venture Creation Challenge"
The annual Challenge is held by the Institute for Entrepreneurship and Innovation at the University of Missouri - Kansas City. It culminated on April 29th with a day-long event. Bob Bennett, Founder and CEO of COMMWORLD of Kansas City, was among this year's judges.
Throughout the school year, students developed business plans for new venture concepts. Prior to the event, business plans were submitted to judges for evaluation. During the event, students presented their ideas in a Venture Expo and practiced their "elevator pitches" on the judges. 68 teams competed and were judged and mentored by 140 local investors, business leaders, faculty and entrepreneurs.
The new venture concepts ranged from high tech, to energy-saving, apparel, safety, pet care and food. Interestingly, there were a number of ideas that had something to do with drinking alcohol. (Imagine that on a University campus!)
The event ended with the presentation of numerous awards to the winning teams. Some awards included seed investment to help launch the businesses. Winning teams are eligible for additional support and some may be invited to present their ideas to potential investors.
Fun Phone Facts...
Question: What do neon lights, aluminum foil and headsets have in common?
Answer: All three were developed in 1910.
Ironically, war is an impetus for development of new products and World War I did just that. The headset was invented by Nathaniel Baldwin while he was studying physics and electrical engineering at Stanford University. He was unsuccessful in finding a private company to produce large quantities of his headset. Then in 1910, before World War I officially began in 1914, the United States Navy ordered 100 headsets. Baldwin set up the plant to fill that first order and continued producing headsets thereafter.
By 1961, Courtney Graham and Keith Larkin, two airline pilots, were determined to create a light weight headset to replace the heavier models used in commercial aviation. In a small garage in Santa Cruz, California, they did exactly that and they named their new company Plantronics.
The company has gone on to be a leader in the headset market with two special milestones in space. Wally Schirra was named one of the "original seven" Mercury Astronauts on April 9, 1959. He used a Plantronics headset which was adapted to fit inside his helmet making it the "first headset in outer space". In 1962, Apollo 11 astronaut, Neal Armstrong, took the first walk on the moon. His legendary words, "That's one small step for man, one giant leap for mankind." came back to earth through his headset.
Today headsets are more popular than ever. They're lighter, more comfortable and many are wireless giving the user maximum freedom. Anyone in your office who spends much time on the phone can benefit from a headset. It will free their hands to be more productive while it reduces stress on the back and neck. Preferences for the style of headset vary from person to person. Obviously, a high quality headset will last longest and provide the best sound which results in a professional first impression to callers.
Source: ehow.com, plantronics, hubpages.com