For Your Protection…
2011's record-breaking tornados, thunderstorms and flooding have caused disastrous results for people and businesses. Every time a severe storm hits, we get calls to repair damaged telecom equipment and sometimes, it turns out to be beyond repair.
This newsletter is dedicated to protecting you, other people, your business and your property. Please, call us at 816-763-1100 or email info@commworld-kc.com with any questions and if we can help.
Bob Bennett, Linda Bennett
& the COMMWORLD of KC Team
Protect equipment with Battery Backup…
"If our phones die, we're out of business!"
We've heard that hundreds of times. Doesn't it make sense to protect your valuable telecom equipment from power fluctuations and outages?
Get a battery backup unit or uninterruptible power supply to extend the life of your phone system and keep your business running even if you do experience summer brown-outs, surges or a power outage.
Change the batteries in battery backup units and uninterruptible power supplies at least every 3 years. Be sure you have a current backup of system programming. Toshiba's newly introduced IP-edge pure IP communications system does scheduled backups automatically.
A report for the National Lightning Safety Institute states: "Damage from electrical transients, or surges, is one of the leading causes of electrical equipment failure…. The most obvious source is from lightning, but surges can also come from normal utility switching operations, or unintentional grounding of electrical conductors (such as when an overhead power line falls to the ground). Surges may even come from within a building or facility from such things as fax machines, copiers, air conditioners, elevators, motors/pumps, or arc welders, to name a few. In each case, the normal electric circuit is suddenly exposed to a large dose of energy that can adversely affect the equipment being supplied power."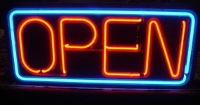 ReadCOMMWORLD's Blog!
Read COMMWORLD's Blog about the truck that shut off our power and how we "stayed in business".
Disaster Routing Service…
Be prepared for the unforeseen with Disaster Routing Service. When you can't answer your business phone calls, let us do it for you.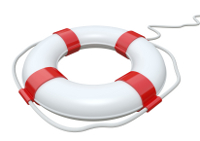 The worst thing you can do is let calls go unanswered. Businesses down the street may know you've had a flood, a fire, or some other disaster, but prospects and customers from across town or around the country and the world may wonder if you're still in business. They might just call a competitor.
For as low as $20 per month, you'll have the peace of mind knowing your business is protected with Disaster Routing Service.
IP Surveillance Solutions are an Ounce of Prevention…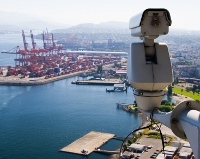 Video Surveillance is an excellent way to protect your business. We've all seen the fuzzy videos on TV of the bad guys robbing the 7-Eleven, but Toshiba's IP Surveillance Solutions create sharp pictures that you can dial in and see from anywhere. Log in with your secure code and monitor. Free camera management software allows powerful playback and search functions.
Video Surveillance can provide protection in many areas of your business.
Entrances and exits... Even in the best areas, crazy things happen. The Receptionist left her position for 5 minutes to refresh her coffee, leaving her purse behind her desk. That's all it took for a man to pop in, grab the purse and take off running. Her money, credit cards and ID were gone and the police never caught the guy. Today that South Kansas City company not only knows the value of well-placed Video Surveillance, but they also added a Door Box to their phone system. Now they keep the door locked, visitors ring the door box and converse with the Receptionist via the Toshiba phone system before they are allowed to enter.
Anywhere money changes hands... Video Surveillance keeps everyone honest. The owner of a Lee's Summit insurance agency says his video surveillance more than paid for itself. He called it "the oldest trick in the book" when a guy walks in, pays with a $50 dollar bill, gets the change and leaves. Then a few minutes later he walks back in and claims there was a mistake and he actually paid with a $100 dollar bill. The video tells the real story.
The pharmaceutical closet in a Doctor's office or anywhere drugs are kept... Drugs are especially vulnerable to theft. According to a May 2011 report issued by the National Institute on Drug Abuse, prescription and over-the-counter drugs are the most commonly abused illicit drugs.
The warehouse, docks and entrances... Protect valuable inventory at these vulnerable points.
Your building exterior, parking lot, grounds, and interior... Just having cameras in place can be a deterrent to crime.
Anywhere people should be monitored and protected... Child care facilities, nursing homes, schools, retail stores, etc.
Contact us for a custom designed IP Video Surveillance Solution. We hope you'll never need a "pound of cure".
IP Video Surveillance Case Studies…
Vandal Convicted, Dealership Receives Full Restitution
A Toshiba IP Video Surveillance Solution helped "crash" a car vandal responsible for $75,000 worth of damages at Richard Chevrolet, an auto dealership in Connecticut. An intoxicated vandal took his frustrations out on 46 Chevrolet Yukons and Suburbans by slashing tires and keying the sides of the vehicles. Although it was dark and late at night, the digitalized, recorded images were such high quality that sales reps at the dealership easily identified the vandal. The recorded video was given to the local police. With search warrant in hand, the police searched the suspect's house finding additional evidence. The vandal was arrested and charged with a felony. He was later convicted and the owner of the dealership, Richard Jaffe, received full restitution.
Distributor Protects Multiple Warehouses & Breathes Easy
Bernick's Beverages & Vending is a distributor for leading products including Pepsi, Dr. Pepper and Miller Brewing Company. Based in St. Cloud, Minnesota, the company has 5 warehouse locations. Several years ago, they installed black & white analog cameras and recorders to protect their warehouses, but the capabilities were limited and the maintenance was time-consuming. The company has upgraded to a Toshiba state-of-the-art IP network video system with excellent results.
They needed streaming video to know exactly who and what were coming and going in each warehouse in real time. Their "command central" is located at the headquarters, but authorized users can access the system remotely. Users can simultaneously view, record, search, configure and export video. Cameras are located in highly visible spots to deter would-be thieves or vandals. If an incident does occur, the captured digital video can be emailed to the police.
IP Video Surveillance Systems can reduce the need for security personnel and / or can free them to do more than just watch a monitor.
Fun Phone Facts...
In 1961, the country was in the midst of the cold war. My next-door-neighbor built a fall-out shelter and children were taught to "duck and cover" to be prepared for the unthinkable. That year AT&T began laying a coast-to-coast cable which would be able to withstand an atomic bomb blast. The cable was intended to survive when the national microwave system might fail, thus maintaining vital communications for the country.
The cable followed a path along 19 states. 2,500 reels of coaxial cable were laid in the 4,000 mile long trench. 9,300 circuits were driven by 950 buried concrete repeater stations. 11 manned test centers complete with living space, air filtration system, food and water were buried 50 feet underground and little red brick buildings dotted the path. The project was complete in 1965. Although it was supposed to be secret, the path was kept free of trees and brush for years, so it was visible to the observant.
So what happened to this $82 million project? The cold war ended, MCI and others started running fiber optic lines across the country, when competition came along AT&T could no longer pass the high maintenance costs on to the public and technology changed. A single fiber optic line could handle 3.2 million voice circuits while one of the older lines could only handle 32,400 voice circuits.
By 1990, the power to the little red buildings was shut off and the equipment removed. Entry lids to the underground bunkers have been bolted shut, the lines were abandoned and now the trees and brush cover much of the path for the cable that was laid to protect us 50 years ago.
Sources: Privateline.com, TriCornerNews.com