IP Mobility improves business communications…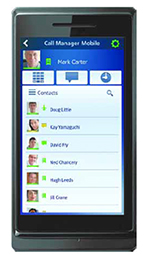 Spend a lot of time working outside the office? If so, you probably rely heavily on your smartphone. In January, Toshiba announced a free application to turn a smartphone into an extension on the office phone system. The app was first available on the IPedge VoIP business telephone solution and now it's also available on the VIPedge cloud-based service.
Good business has always been about communication … communicating with customers, vendors, partners, advisors, employees. People ask if smartphones have hurt our business. The answer is "No", but they have changed it. Now an important part of what we do is integrating the various methods of communication. The most successful businesses use every tool they can to enhance the effectiveness of their communication.
Read more about how IP Mobility can improve your business communications »
Bob Bennett, CEO & Founder of COMMWORLD of Kansas City pens another thought-provoking article for the February issue of KC Business Magazine…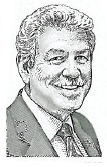 The Energy of the Future:
It's time we started investing in our thought-energy education
There has been a lot of attention and huge amounts of money (billions of our tax dollars) invested by the Obama Administration in so-called "energy of the future" options. Our public servants think they are much more capable at investing our billions in the "energy of the future" than the private business sector.
What were they thinking when they invested in Solyndra ($500M), Abound Solar ($400M), Brightsource ($1.6B) and Johnson Controls ($299M)?
Helping the Helpers…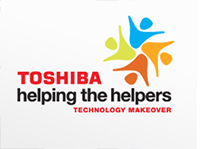 On March 10th, voting ends for the "Toshiba for Good - Helping the Helpers" video contest. The winning non-profit organization will get a technology makeover valued at $100,000.
We're sure all entrants are worthy, but we're pulling for Habilitat to win. This treatment facility for people with addictions boasts a 54% success rate after 5 years – compared to the national average of 16%. Bob and Linda Bennett, owners of COMMWORLD, are friends with a group of Faster EFT practitioners who have volunteered their time and services to help create that success.
Please, take a couple of minutes on Facebook to watch their clever video and vote for Habilitat or another one of these deserving non-profits.
Thank you.
Fun Phone Facts…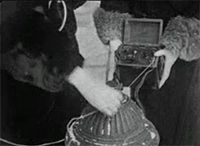 The world's first mobile phone was caught on film in 1922?!
This rare footage was found by film archivists at British Pathé. Spokesman Mark Harris said, "One of our researchers came across the clip and we were amazed that the idea was so old, we are used to budding technologies appearing in the 1950s and 60s but this is four years before television was first demonstrated."
The silent film first appeared in a cinemagazine for women sometime between 1921 and 1933. Notes describing the action to viewers read, "Bless us, they're never still – always up to something new. And Eve's latest invasion is in the wireless world. It's Eve's portable wireless phone – and won't hubby have a time when he has to carry one!"
Source: www.BritishPathé.com