Congress Could Try The Shoebox Method...
All the haggling over the debt ceiling and the economic crisis makes us thankful that we chose a different style of economic planning when we started in business 30 years ago.
It was 1981, the country was in a recession and by summer of 1982 interest rates were 21%. We were new to telecom, unknown in the industry and competition was fierce. COMMWORLD took a conservative approach to economics called "The Shoebox Method".
Sales were hard to get, but when we did gain a customer, the money from the sale went in Shoebox #1. As bills came in, they went in Shoebox #2 and the 3rd Shoebox waited...empty.
Money from Shoebox #1 went to pay all the bills in Shoebox #2. If the pile of bills looked like it was gaining on the amount of money in Box #1, we said a prayer and worked hard to make another sale to stay in balance. After all the bills were paid, if there was any money left over, it went to Shoebox #3 to market, put back into building the business and sometimes to pay ourselves.
It's a simple method, but pretty effective even though the shoeboxes were only in our minds. I guess you could say our debt ceiling was the lid on the box.
Please, call us at 816-763-1100 or email info@commworld-kc.com with any questions or if we may be of service. We're all in this economy together!
Bob Bennett, Linda Bennett
& the COMMWORLD of KC Team
"Won't you be my neighbor?"
Space for Lease in the beautiful COMMWORLD Building...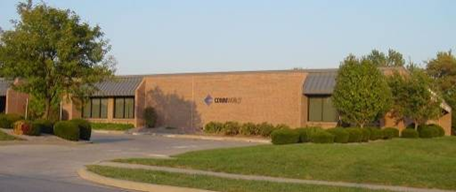 EXCEPTIONAL SINGLE STORY OFFICE BUILDING
SPACE FOR RENT IN THE COMMWORLD OFFICE BUILDING
6200 MAIN STREET, GRANDVIEW, MISSOURI 64030
FROM 3,400 UP TO 12,000 SQUARE FEET OFFICE SPACE
Excellent Location with Fast Access to 71 Highway
Minutes From I-435 Loop & I-470
122 Free Parking Spaces (7.6 per 1000 SQ FT)
State-of-the-Art Communications Network
2.2 Acre Corner Lot with Picnic Area & Wooded Trail
Close to Public Library, IHOP & Within 4 MI of New NNSA Facility and Centerpoint Intermodal Center
Excellent Security Lighting
All Brick Construction
New .060 MIL Mechanically Fastened TPR Roof System
Signage Available
Fire Sprinkler System
Attractive Private Offices and Open Areas
Constructed in 1991
Greater Kansas City Area, South Jackson County
$10 - $15/SQ FT.
10 Tips to Stay in Business During a Move
or
How to Smoothly Coordinate & Implement Moving Your Business Phone System
Our best Tip... partner with a telecom company with a reputation for smooth office relocations. The company should be an Authorized Dealer for your phone equipment manufacturer with experienced Manufacturer Certified Technicians.
Choose one person in your company to be the main contact for coordinating moving the communications system. That contact should understand how your business functions now and how that might change in the new space. He/she should also understand how the telecom system works and any preferences for your business. The business owner, office manager, telecom specialist or IT specialist are likely candidates for this important role. Because "stuff happens", be sure to have a back-up contact.
Get floorplans of the old location and for the new location to compare. This will help you decide where to locate telephones, fax machines, computers, credit card machines, paging speakers, door boxes, video surveillance cameras, etc. Take the floorplans with you as you walk through the new space, visualize how it will really work and mark the new floorplan. Telephones are marked with a small triangle.
Determine the logical place for servers, phone system, DVR, security system, etc. Electrical and HVAC requirements for all equipment must be met. A dedicated electrical circuit for telecom equipment is ideal. Even if the phone system doesn't generate much heat, other equipment in the same small room could make additional air conditioning necessary. You'll need to allow wall space or rack space for these devises.
Your new space may have voice and data cable in place, new cabling may be required or you could use a mix of old and new. Decide if existing jack locations fit your needs. If you anticipate future additional phones, computers or other devices needing cabling, have the cable installed now. If you wait until after you're in the space, it can make the job more difficult and disruptive to business. Determine where the phone and internet services enter the building and are terminated. That service must be extended to the equipment room.
The layout of the new space is likely to require changes in your communications system. It's a good time to install a new telecommunications system, or maybe some additional equipment and/or software or just reprogramming will fulfill your needs.
For example:

Warehouse workers may need wireless phones to stay in touch. It's impractical and probably dangerous to expect a warehouseman to jump off a forklift and sprint across the warehouse to answer a phone call.
If files are located far from the Receptionist's desk, a wireless headset will allow mobility for him/her to go to the files and still answer incoming calls.
Paging speakers may be needed in the new layout.
A light indicating when a co-worker is on a call is helpful if you can't physically see him.
In the new space, you may require extra security at entrances. Video Surveillance cameras and / or door boxes may be located at entrances and other sensitive areas.

Coordination of phone and internet carrier services is a critical. The last thing you want is to be without these services for an extended period. There should be a plan in place to effectively take calls during the move. Your telecommunications partner should have a reputation for moves that are quick and efficient. They should know how to "keep you in business" during your move.
Whether you get new phones or keep old ones, programming of the buttons should be updated and labeled. User Training and documentation are important parts of getting a new telecom system. If you're keeping your old system, refresher training and up-dated user guides can help you get all the benefits from your telecom system.
Voice Mail company greetings, personal greetings and call center announcements may need to be updated and re-recorded. Messaging-on-hold may need an update.
Today, with number portability, you can usually keep your old phone number. However, you may be adding DID's, a special number for service or an 800 number which you will want to put on business cards, email signatures, etc. Remember, phone number assignments are not guaranteed until they are installed and/or you're paying for them.
Important Bonus Tip - Don't Wait Until the Last Minute! It takes time to plan, coordinate and implement a move for best results. Contact your telecommunications system provider well in advance of your move.
The Best of Both Worlds...
Introducing the new Toshiba IPedge
Whether you want a pure IP, server-based voice communication system, or a converged IP voice communication system that also accommodates digital telephones, Toshiba has the solution for you.
Not sure if VoIP is right for your business? Not even sure what VoIP is? Many manufacturers only offer one "flavor" so that's what they'll try to convince you is best for everyone. But it really depends on a lot of variables.
Don't worry. Let the experts at COMMWORLD guide you to the technology that fits your needs and your budget.
Toshiba Strata CIX systems provide excellent converged solutions for organizations that want to stick with traditional digital technology or use a mix of IP, digital, and analog endpoint devices connected to their system along with IP telephony and unified communications applications.
Toshiba IPedge systems are software-centric Unified Communications platforms designed for organizations that want to deploy on an all IP network infrastructure to realize the savings of managing a single network.
Toshiba Strata CIX and/or IPedge systems can also work together as networked systems, to dramatically expand capacity and improve integration between decentralized locations.
Visit our website to learn more about the Toshiba Family of Communication Systems.
Bob Bennett, Founder & CEO of COMMWORLD of Kansas City, pens article on Positive Thought & the Power of Intention...
Here is Bob's latest article the July issue of KC Business Magazine, Bob is a columnist for the magazine on the subject of Business Philosophy.
Read COMMWORLD's Blog...
We hate to say we told you so, but your phone bill is probably wrong and the FCC knows it...
Read More »
Source: www.FCC.gov
Fun Phone Facts...
September 1st - Celebrate Emma Nutt Day!
Remember Lily Tomlin's old-time telephone operator character, Ernestine? "One ringy dingy – two ringy dingy..." Lily was born on September 1st, 1939 and her inspiration for Ernestine may have been Emma Nutt, the woman who became the first female telephone operator in the U.S. on September 1, 1878.
Emma Nutt and her sister were hired by the Edwin Holmes Telephone Dispatch Company in Boston. Emma held the position of operator for 33 years. She may have also had a sense of humor like Lily Tomlin. Emma claimed she was very thankful that her first name wasn't Imma.
The first telephone operators were boys, but that turned out to be a disastrous mistake. The boys didn't have the patience for the job. Instead they pulled pranks on callers, sometimes used profanity and there were fistfights between boy operators while other boys cheered. Phone company operators decided that young women would make better operators and the mostly male customers would like talking with women better.
Female operators had to be between ages 17 and 26, single, prim and proper in appearance and tall enough to reach the phone switch sockets. If they got married, they would lose the job. By 1900 the typical operator only made $7 per week and she worked 10 or 11 hours per day, six days a week. Sometimes she also worked nights and holidays.
City phone operators might handle up to 600 calls in an hour. They were strictly supervised and management teams were hired to improve their productivity. She was told how to sit, how to answer calls and not to have conversations with customers. She was allotted 4 seconds to answer a call. If she broke any of the rules, she could expect severe punishment.
Despite the low wages, long hours and strict regulations, Emma is said to have loved her job for all 33 years.
Sources: www.holidayinsights.com, www.answering–services-phone-messaging.com, dopodomani.me