Voicemail and Auto Attendant Systems
« Samsung Products
« Product Catalog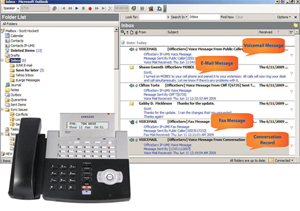 Unified Voice Processing and Messaging System
Imagine the efficiency and productivity of customizing how voicemails, email messages, and fax messages are created, sent, received, tracked, synchronized, and archived - all from one central location. The Samsung OfficeServ IP-UMS, integrated with the OfficeServ 7200 or OfficeServ 7400 systems, merges it all through a robust unified messaging system designed for the small-to-midsized business that must operate and compete on the big business stage.
---
Integrated Voice Processing Platform for the OfficeServ 7200 and 7400 systems.
Specifically designed to integrate into SAMSUMG's OfficeServ 7200 and OfficeServ 7400, the SVMi-20E offers the features and functionality of Voicemail and Auto Attendant while focusing on immediate, personalized and unobstructed access to callers.
---